With so many different types of dining room tables and dining room sets to choose from, it can be difficult to pinpoint the perfect table for you. Great news! I put together these nine handy tips to focus your search and lead you to the dining room table that's ideal for your home.
1. How Big Is Your Space
Consider the size of your room. Big rooms can feel daunting to design, and long rectangular dining tables are a great way to break up or "zone" an open floor plan!
Round tables are great for small rooms and dining nooks. You can also maximize small dining areas with drop leaf tables. They're great to push against the wall when you don't need them, but expand easily when you're hosting company.
For more fun ideas regarding apartment living, check out 7 Space-Saving Tips to Maximize Your Small Dining Room.
2. What's Your Style
Next, think about the style of your dining room. Are you going for the trendy farmhouse look, a hint of elegance, trusty traditional or cool and contemporary? Knowing your dining room style will help narrow down your dining table search.
Check out my 3D Room Designer and building out a virtual space exactly the way you want it with windows, doors, flooring, paint colors, and furniture. It's like daydreaming on your computer—so fun!
Give it a try today!
3. How Will You Use Your Dining Room
We all dream of those big family holiday dinners at a large dining room table, but sometimes that's just not a reality when you're starting out in a small apartment or live in a small space. That's why it's important to think about the function of your table. If those large holiday parties aren't in your near future, go with a smaller table. The last thing you want is to purchase a table that's too big and that takes up valuable floor space.
I've broken down table sizes based on how many people will be using the table: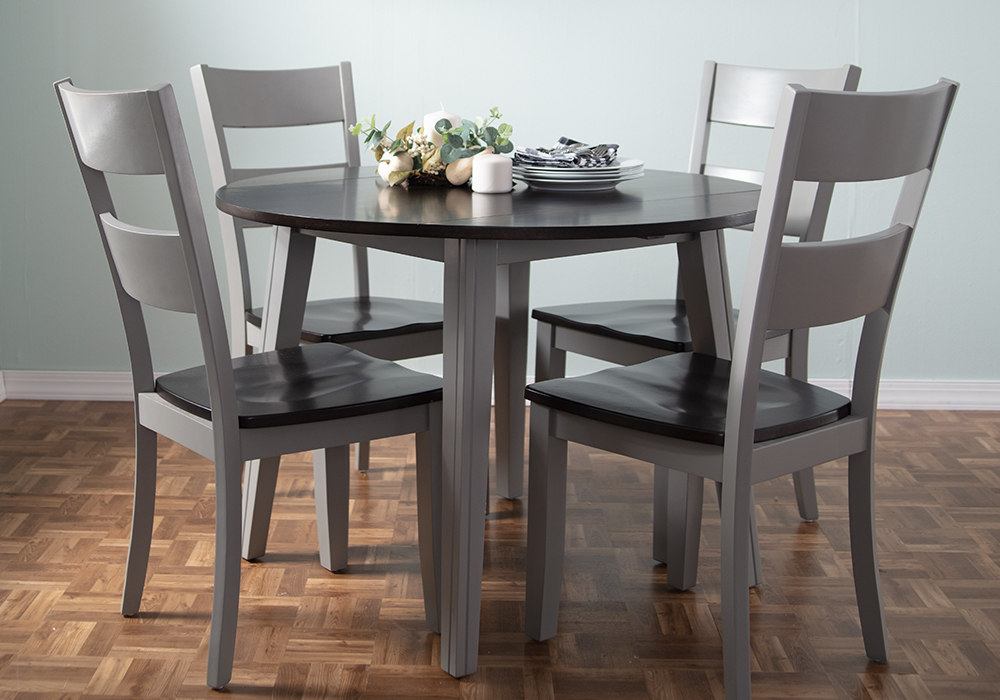 2 to 4 People
If you only need seating for a small group of people, go for a round table that seats four. You can also look at a smaller square table and if you have a little space to work with, check out a smaller rectangular table.
4 to 6 People
Check out rectangular tables that seat four to six people. Bonus—this Montana Dining Set has storage drawers for spare linens and flatware!
6 to 10 People
If you have a big family or love holiday dinners, you'll need a large dining room table. Look for options with multiple leaves so you can easily expand your table when you're hosting guests and maximize floor space when you're not.
4. Table Height
Selecting your dining room table height is part preference and part functionality.
If you have young children who are still using a highchair or anticipate having children in the near future, then a dining height is a good choice. The dining height table aligns well with the height of most trays on highchairs, which makes feeding during mealtime a little more manageable.
Here are the heights for the three standard table sizes:
Dining Table Height – 30"
Counter Table Height – 36"
Bar Table Height – 42"
5. Table Style
Think back to the overall style of your room, and this will guide you to what type of table will compliment your design. If you haven't quite figured out your style yet, farmhouse tables and industrial tables can be quite versatile. Here's a little inspo to get your wheels turning…
Farmhouse
The farmhouse look puts the spotlight on rustic and relaxed. Think distressed and wire brushed wood paired with neutral and white accents.
Contemporary
Cool: that's the word that immediately pops in my head when I think about contemporary dining tables. The clean lines make a real statement!
Industrial Farmhouse
Industrial farmhouse incorporates metal hardware and accents. Think warehouse chic.
Traditional
You can never go wrong with traditional. This timeless look allows you the versatility to style your space the way you want to.
Cottage
Create a serene setting with a cottage-style dining table. Simple yet functional, the cottage style creates a welcoming and relaxing feel to your space.
6. What Type of Material You Prefer
Do you like the feel of natural stone or the rustic charm of wood? The material you select for your dining room table top should tie in with the overall style of your room and table.
I just love the impact that a marble table top has on a room. It really creates a statement!
Marble accents add an air of sophistication to any room.
If you have a smaller space, try a glass table top to give your room a lighter feel.
7. All About that Table Base
Your style and design options aren't only limited to the table top and above. Check out these different types of table bases:
Trestle Table
A trestle table is simple, yet impactful. Plus, it gives you plenty of legroom underneath the table!
My Hudson Trestle Table features a sturdy base, metal accents, and a rustic finish.
Pedestal Table
Pedestal tables add a touch of elegance.
My Cosmopolitan Round Dining table features a glass top and a stunning tulip base.
Four-Leg Construction
Four-legged tables like my Blake Dining Table will never go out of style.
They give you a classic and clean look.
Storage Table
Who doesn't need extra storage!
My Sonoma Complete Counter Table is suitable for those in need spare space for table linens and place settings.
8. Speaking of Storage…
I'm sure we can all agree on this point: the more storage space the better! And it's even better if it's convenient.
Built-in drawers are a convenient way to store place settings and decorative placemats. My Montana Dining Room Table has six drawers—3 on each side!
And if that wasn't cool enough, how about adding a storage bench? They're great for seasonal linens, and spare dining accessories!
9. Be Prepared For the Uninvited Uncle
You can chalk it up to your amazing cooking skills—every time you host a dinner party, there always seems to be an extra guest or two who just "happens" to stop by. So be prepared with a table that can easily expand by adding in a removable leaf or two!
Share Your Dining Room Table
I'd love to see what dining room table you've selected! Snap a pic, post it on social and tag me @mybobs for a chance to be featured on my feed.