Meet the Designer
Hello there! I am Carolina a designer/stylist at Bob's Discount Furniture. My job is even cooler than it sounds – I get to make my ideas and visions come to life and then I share them with you! Are you ready to get lost in the inspiration and styling journey for this room I put together in one of our studios here at Bob's?!
Designing a room can feel overwhelming at first. What style do I go with? What pieces look good together? What colors should I choose? It is completely normal to feel that way! Let me share my ideas and tips with you to make the process easier, less stressful and most of all, more fun!
1. Get Inspired!
This part may seem unimportant, but I promise it's helpful! I always have so many ideas and visions that I don't know where to start. Inspiration boards can be fun! Use Pinterest as your guide, that's what I do! You can create boards and save your pins to them. If you don't use Pinterest, you can simply create a Google or Word doc and add screenshots of your inspiration there! I add color swatches, styles, room layouts, DIY projects, words and fonts that create a mood, favorite furniture pieces, and decor.
Not an online browser? Buy a cork board, or just find a blank wall in your home and tack your ideas up! Cut up magazines, gather paint swatches, and print out your inspiration. Once you have all of your ideas together in front of you – whether it be in a Pinterest board, or on a cork board, you can better visualize your space and before you know it, you'll be painting and shopping!
2. Choose Your Color Palette
I really enjoyed the vision of a monochrome traditional dining room with a touch of elegance! Monochrome can be black and white, or varying tones of one color. My vision was to have a black and white dining table, with walls and flooring being different shades of both the black and white. I chose a whitewashed wood floor and dark gray wall color. I decided to do a beige accent wall to keep the color scheme monochrome and to brighten up the space a bit! I styled with elegant pops of color! A mix of golds and silver.
I will go more into the mixing of metals in my decor/final touches section!
3. Main Focus Piece
What dining set could possibly fit this room better than Bob's Montibello collection?! I know I'm a little biased here, but look at this beautiful, clean line, marble top table! That marble is absolutely gorgeous, the best part is it's real marble veneers. I also love the fact that there are so many options for this: counter or dining height. All chairs or a matching storage bench to go with it. I'M SOLD.
4. Serve Your Wine in Style
I don't know about you but I LOVE me some wine. My absolute favorite is New Zealand Sauvignon Blanc – light and refreshing. A bold red wine is so relaxing and perfect for setting an ambiance for your dinner party! What's better than serving your wine in style?
During your dinner parties keep all of your favorite delicious wine pairings from bold reds to sweet whites on hand with this stunning wine rack.
5. Stylish Storage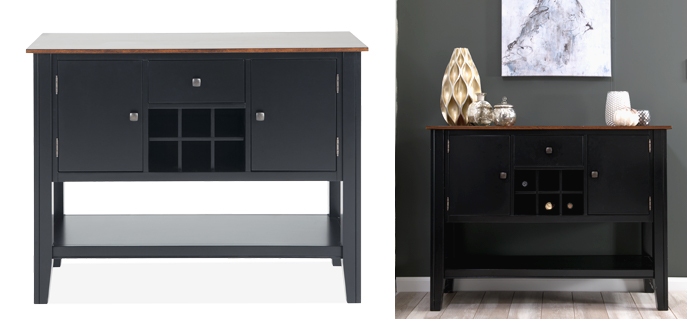 Every dining room needs some storage. The Blake Sideboard in black with a wood top, compliments the dining room well. This sideboard is the perfect entertainment sidekick. A place to hold wine glasses, plates, glassware and any extra wine bottles or champagne bottles you want to keep on hand! It's also another surface to add decor to!
6. Dress it Up with a Rug
After I selected my furniture for the room, I added a little more style with a rug. The Tapestry Rug is made of polyester, which makes it very soft with a high sheen that adds elements of luxury and flair to the design. The colors in the rug are a bit faded and muted so it can easily fit into many spaces.
7. Decor and Final Touches
I chose a blue-gray color for the curtains with a subtle texture to them- these complemented the rug really well and added a little bit of color to the space, making sure to keep it in the same color family as black and gray. How about this white and black tree for a bold statement piece?! I love that I was able to add an element of the outdoors without bringing in any extra colors!
The two wall pieces have hints of light blue, mixed with grays and white. The both have a delicate feel to them, which adds the perfect amount of softness to the room. Black and white can make a room feel very structured and cold, unless you add soft elements!
Mixing Metals
Let's talk about mixing metals! Choose your prominent metal and then add one or two metal accents to bring contrast in the space. The main metal is to create that unity in your room, while the accent metals will add that pop element! Don't be afraid to mix warm and cool metals, such as mixing gold or brass with silver. Too much silver can make your space feel cold, adding gold or brass can really warm it up! I promise that metals can work together as long as it is done thoughtfully.
Here I used silver as my dominant, then added some gold pieces, and a black metallic piece as my third metal. Have fun with it and make it your own!
I'd love to see your version of a monochrome traditional dining room. Snap a pic of your space and share it on social with the hashtag #mybobs.