Trying to arrange your furniture on or around a rug can feel like a big ole' puzzle. Either the pieces don't fit correctly, they appear to be floating, or you're not even sure what the end result is supposed to look like. Since no two rooms are created equal, it's hard to give a one-size-fits all answer to rug buying, which is why I've broken it down by room (yep, even the laundry room). Grab your tape measure, and let's get started!
Living room rugs
The living room may be the most lovable spot for a rug. When placed correctly, it acts as an anchor for all your furniture and adds that touch of warmth that makes you wanna snuggle up and watch a movie. There are two ways your furniture might be arranged. First, if you have your couch or chairs up against a wall, make sure the front leg of each piece of furniture is resting on the rug (that means a 6'x9' or 8'x10' rug works best, or go smaller if you have a compact living space).
If you have a larger room, you probably have your furniture floating in the middle. In that case, your best bet is to go large (8'x10' or 9'x12' should do the trick), so the rug encompasses all the furniture's legs while still leaving walkways around them, like this:
Rectangle rugs not your thing? Give your living room a modern look with an 8-foot round rug or larger. The contrast between the different shapes of the room will create a fun, eclectic look. Position your furniture so that some or all of the legs touch the rug. (Don't worry, I have more tips on round rugs later.)
Bedroom rugs
Rolling out of your bed in the winter and stepping onto a cold floor is enough to make someone want to stay in bed all day. Not only does a rug make mornings less miserable, but it adds that zen-like feng shui that brings a calm energy to your sleep sanctuary. If your bed is in the center of the room, you're already off to a great start for creating balance. The rug itself should extend about 2-to-3 feet from the bottom and sides of the bed.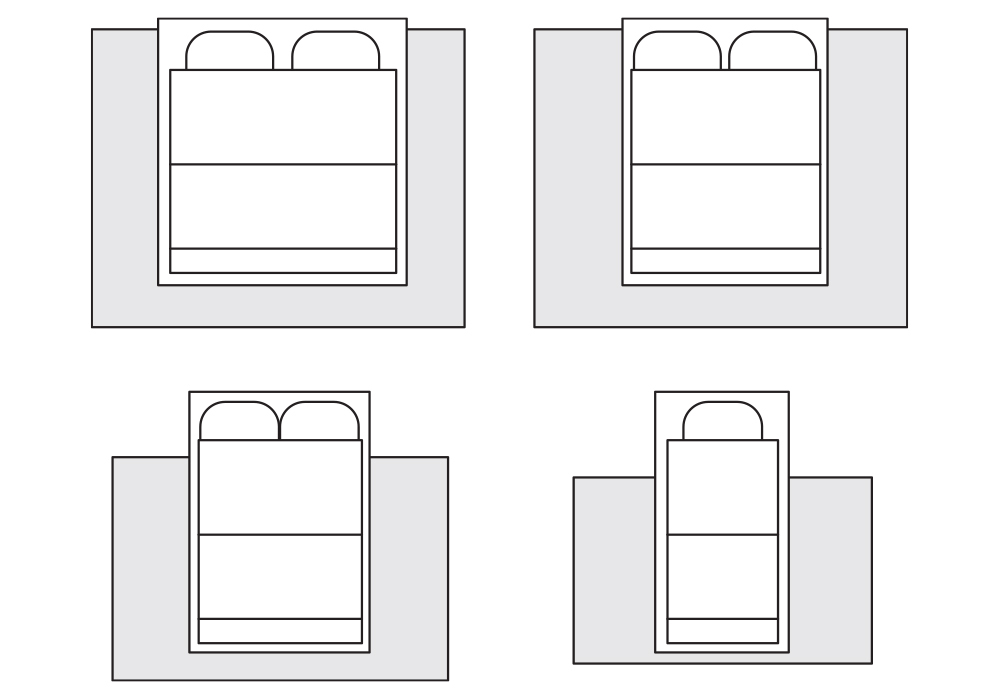 Have a small bedroom? You could get away with a small area rug for the side of your bed, but did you know that a large rug will actually make your room look larger? Just try to leave at least 2-to-5 inches of floor space between the rug and the walls so the rug doesn't overwhelm the room. Similarly, for large bedrooms, a rug that's too small will make the room look disproportionate, so opt for big, and plan on leaving 8 inches of floor space between the rug and the walls. Here's a cheat sheet for what size rug to get based on your bed size:
Twin: 5'x8'
Full: 6'x9'
Queen: 8'x10'
King: 8'x10' or 9'x12'
Dining room rugs
You might be torn on whether or not to give the dining room a rug (especially if all you can imagine is cleaning dinnertime spills off it), but this rug has its benefits! It can give your dining space a finished look and define the area, particularly in loft-style apartments or where the dining table is attached to the kitchen. At the very least, a rug will add coziness to family dinner time.
Now that I've convinced you, on to size! The rug should extend from the back of each chair by two feet, aka enough room so when you pull your chair out, you don't go wobbling off the rug. This also helps protect your floor from scuff marks (another win for rugs!). Depending on your table and chair size, aim for a rug that's 6'x8', 8'x10', or 9'x12'.
Kitchen rugs & runners
Sleek tiles may look good, but sleek cold tiles are not-so-nice. Create a warm spot for yourself where you chop, food prep, and wash dishes—and a safe spot so no one slips on spilled olive oil. Since spills and fallen food happen often in the kitchen, a lightweight, narrow runner works best. It fills the space nicely between a counter and an island, and it's light enough to shake off crumbs for easy sweeping up. You can also put it under your kitchen stools for instant warmth. Since most cabinetry and countertops are typically in a neutral color, have some fun with prints and colors here!
When placing your runner down, try to leave about six inches between the rug and the cabinets. Popular-size runners are 2'x3, 2'x5', 2'x8', 2'x10', and so on, depending on the length of your space.
Entryway & laundry room runners
You don't have to limit your love of runners to just the kitchen. These narrow beauties shine in small spaces, like the entryway, hallways, and laundry room. And, my selection of indoor-outdoor runners is a fabulous idea if you have a connecting outdoor space. They're durable, easy-to-clean, and filled with fun summery prints, so you can bring home those beach vibes!
Reading nooks & small spaces
While rectangular rugs work best under similarly-shaped furniture (like beds and couches), round rugs are a go-to for round furniture and architecture—think: under a round coffee table, next to a curved window, or below a circular lighting fixture. A 3-foot or 5-foot circle rug can also be used to designate small areas of the home, like reading and dining nooks.
For those feeling extra adventurous, step up the fun and layer an irregularly-shaped rug on top of a larger standard-shaped rug. It's a creative way to add color and coziness to a nursery or kids' room.
From round rugs to runners, I've got you and your floors covered!