The Piscataway facility will support the national furniture retailer's expanded supply chain network and seeks to create hundreds of jobs over the next few years.
Media Contact:
Sean Flanagan
Zozimus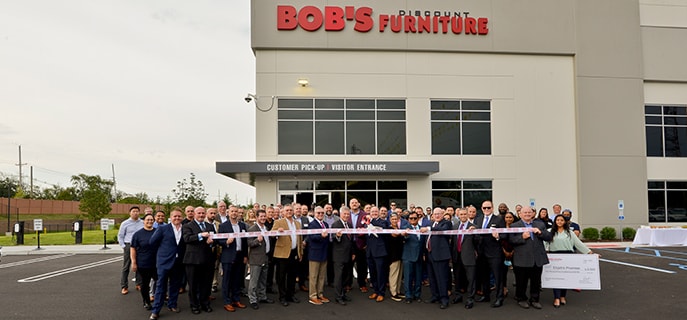 Piscataway Mayor Brian Wahler is joined by members of Bob's Discount Furniture Senior Leadership team including CEO Bill Barton at the official ribbon cutting ceremony at Bob's new Distribution Center in Piscataway, New Jersey.
PISCATAWAY, NJ – September 28, 2021 – Bob's Discount Furniture, one of the largest and fastest growing furniture retailers in the United States, recently opened an ultra-modern 622,230-square-foot state-of-the-art industrial distribution facility in Piscataway, New Jersey. The national furniture retailer hosted a ribbon cutting ceremony and tour of its new distribution center at 150 Old New Brunswick Road to mark the official opening of the modern addition to its expanded supply chain network and to celebrate the expected creation of hundreds of jobs over the next few years.
Facts about the location
• 622,230 square feet, 40-foot clear heights, 125 dock doors
• 302 automobile parking spaces and 127 trailer parking spaces
• LEED Silver certified for meeting high energy efficiency performance standards, and the design, construction and operation are deemed to be environmentally responsible.
"Our distribution centers, and the teams that work within them, manage every aspect of how we get our product into Bob's showrooms and into our customers' homes." said Bill Barton, Bob's Discount Furniture President and CEO. "This new distribution center will enable us to deliver superior service to Bob's customers in the New York Metro region, and we also anticipate that this facility will house several hundred new jobs over the next few years. Our sincerest thanks to Duke Realty for being a terrific partner to Bob's throughout this process and to the city of Piscataway for their support."
Bob's and Duke Realty, the owner, developer and manager of the facility, used the ceremony to demonstrate their company's commitment to the surrounding community and thank local leaders for their support in the redevelopment of the site. Preceding the ribbon cutting, Bob's presented Stacy Lopez, Associate Director of Development, Elijah's Promise Soup Kitchen and Dr. Frank Ranelli, Superintendent of Piscataway Schools with $2,500 checks to their respective organizations. Duke Realty also presented Bob's Discount Furniture's Charitable Foundation with a $5,000 check which will be used to benefit charities and families in need in the Piscataway-area. Representatives from the Piscataway Fire Department and Piscataway Police Department were also on hand to celebrate Bob's arrival to Piscataway.
"At Duke Realty, the impact we have on the communities we serve fuels our commitment to sustainable practices and social responsibility," said Art Makris, Duke Realty senior vice president of the Northeast Region. "We are proud to not only help Bob's Discount Furniture continue to grow, but to support their shared values of giving back to the community."
About Duke Realty
On a nationwide basis, Duke Realty owns, maintains an interest in or has under development approximately 159 million rentable square feet of industrial assets in 19 major U.S. logistics markets. Duke Realty Corporation is publicly traded on the NYSE under the symbol DRE and is a component of the S&P 500. More information about Duke Realty is available at www.dukerealty.com. Duke Realty also can be followed on Twitter, LinkedIn, Facebook and Youtube.
About Bob's Discount Furniture
Founded in 1991, Bob's Discount Furniture is one of the fastest growing furniture retailers in the country. Keeping true to its founding principle that everyone deserves quality furniture, Bob's provides unsurpassed value with honesty and integrity. Through all the work that happens behind the scenes, Bob's engineers this value, offering its discount on a wide variety of stylish, quality furnishings, mattresses, and home accents.
With 150 furniture stores across 23 states, the Manchester, Connecticut-based company has become the 10th-largest U.S. furniture chain. In 2021, MyBobs.com was named one of "America's Best Trending Online Shops" by Newsweek, and for the second year in a row has been recognized as a leader in sustainability by both the Sustainable Furnishings Council (SFC) and the National Wildfire Federation (NWF). The company also offers a unique and enjoyable shopping experience, featuring cafes in each store with complimentary gourmet coffee, ice cream, cookies, and candy.
Bob's is committed to supporting local communities through a variety of charitable giving efforts. Bob's Discount Furniture Charitable Foundation has anchored the company's philanthropic work for more than 20 years. Additionally, the Bob's Outreach program was created as a separate entity to help schools and children-related charities. In total, Bob's and its Foundation donate more than $2.75 million to charities through these programs each year. For more information on Bob's charitable programs, visit Bob's Cares and follow Bob's on Twitter, LinkedIn, Facebook and Youtube.